Image Film - Quality VS Budget
How much does an image film cost?
How much does an image film cost? What is the price for an image film? In a first inquiry or cost estimate for a new image film production, we often find that there are very different ideas about what services are necessary for a professional image film and what they cost. 
So what exactly does the price depend on?
 If you have no experience in making image films, then you have come to the right place: we at Arty-Shock, are specialized in this, therefore, we provide a piece of very comprehensive support from the very first moment. We have been shooting commercial image videos (and other types of films) throughout Germany and worldwide for 8 years ( in Berlin, Hamburg, Cologne, Frankfurt, Paris, Lisbon, and Jerusalem) and, thanks to these successful video productions, we have a huge amount of know-how for all major industries and different clients. In preparation for your production, we also offer you our step-by-step concept template for your new image film production and price template for free download.
Prices and costs of an image film
The price for an image film depends on how complex the film production is in terms of the number of shooting days and the experience and size of the film team. However, this scope also depends on how close and authentic the film reflects reality (for example, as reportage or documentary) or how artificially staged the film shows a fictional reality (scenic fictional film with actors, studio, glossy advertising production). Furthermore, additional services such as actors, travel expenses, location rentals, special filming technology (camera, light, drone) and elaborate post-production with many long interviews that have to be edited, animations (schematic 2D or photorealistic 3D), good, specially composed GEMA-free music and voice talents can influence the price.
Image film is a service and not a finished product. This means that there are few fixed costs, but the proportion of variable costs is very high, as the amount of individual labor and the technology used by a video production company depends on your goals. For example, how much does a three-minute corporate video cost? It is not that easy to say: it is possible to produce both a 10min film (like reportage or a documentary video production) and a 30sec film (like an elaborate commercial) with a budget of 10.000-15.000€. So the cost per film minute depends more on how much and how elaborate is to be seen in the film time. When calculating image films, three important cost points.
Production
On-site meetings 
Script Storyboard 
Casting 
location scouting 
Location visit 
Conception 
Target group analysis
Competition analysis
Film Shooting
Size of the video team
Qualification of the video team
 Filming equipment needed
Number of shooting days
Variety of filming locations
Post-Production
Scope of editing the video
Buying rights of use for Actors, voice actors, and composers
Amount of interviews
Color correction complexity
The prominence of voice actors
Animations of corporate design content, software content, intro, outro
Music composition
Sound effects
Price overview (plus VAT) for an exemplary image film production:
Low-Budget
up to 8.500,-€
1 short shooting day
simple conception
one cameraman
film editing
purchased music
Mid-Budget
from 8.500,-€
1-3 shooting days
broad conception
detailed project plan
professional film team
film editing color correction
professional voice-over artists
graphics in your corporate design
purchased music
High-Budget
from 30.000 -€,
from 4 shooting days
no additional travel
expenses throughout Germany
detailed conception with on-site workshops
detailed project plan
professional larger film team
professional color correction in grading
studio actors
complex animations in motion design
high-profile voice artists
composed soundtrack
Please note that the price depends on the number of shooting days on the one hand and on the equipment/scope of services on the other. For example, it is also possible that an image film costs only 11,000€ net, which is only shot on one day, but which is upgraded with animations.
Prices and costs during conception: meetings and pre-visualizations.
The content of the film must be determined during pre-production. To do this, the first step is to prepare the film shoot as precisely as necessary and possible in the conceptual pre-production meetings, concept meetings, brainstorming sessions, treatments, competitor analyses, drafts of voiceover texts, and any drawn storyboards. Depending on the scope of the story, editorial research, and preparatory work, we charge daily rates that are also common in other advertising and communications agencies. From the experience of 700 completed film productions, we try to make this process as structured and planned as possible. Together with the internal coordination (also up to the awarding of the contract), this phase often takes up the most extensive part in terms of time (not price).
This results in the staging and technical requirements for the film. After all, even before the film is started, it must be considered where and for whom it will ultimately be released. On the one hand, the use of a film has an impact on the conception, script, and visual language. On the other hand, it also has an impact on the actors' fees, the license costs for the composer, and the buy-outs for voice-overs. Because: it makes a difference if a spot is advertised on TV or with a big budget on a social network (YouTube, LinkedIn, Facebook).
Film production process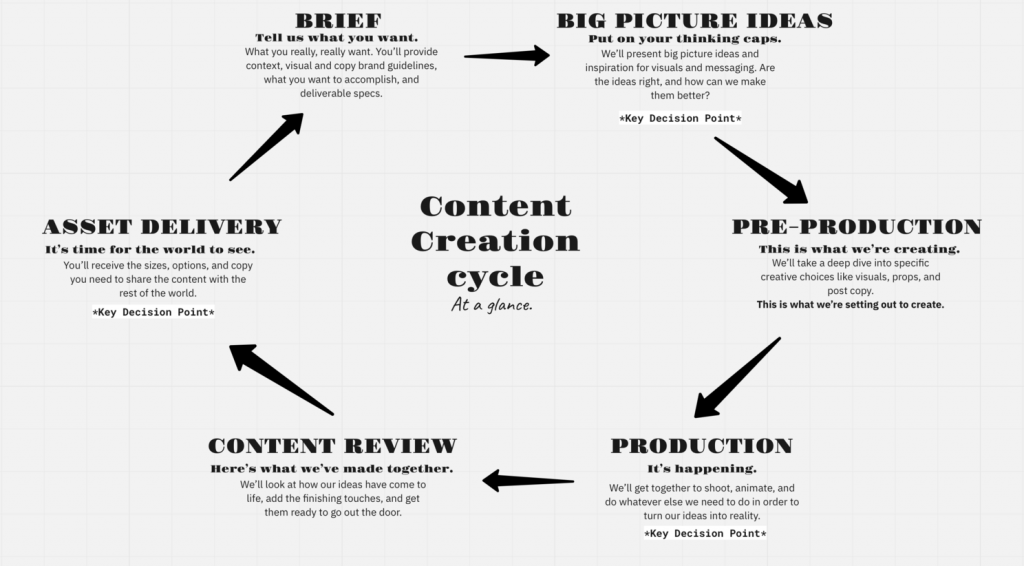 In fact, it is only after this conception phase that it is known what costs will be incurred in the entire project. We, therefore, offer the conception separate from the film shooting and film editing. This means: if it is not yet clear to you which form the film production should take in terms of content and scope, it is also possible to first develop only this concept with us. In the end, there will be a concrete film project description, which can then be handed over ( bid out) to other film production companies for realization. We can then define exactly on a technical, visual, and organizational level which services must be provided by the production companies. If this information is not defined precisely enough in an invitation to quote or an inquiry, you may receive very different, i.e. non-comparable, offers. If you still want to know an approximate total price in the early production phase, we will be happy to offer you a basic calculation first, with which it is certainly possible to produce a good film.
Need an Image Film?
Drop us a line!